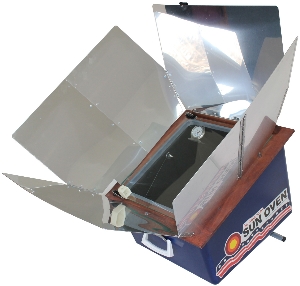 Whenever I talk to people about getting a disaster preparedness kit ready, the topic of food is always mentioned. We discuss what types of foods to have stored (high in protein, nuts, dried fruit, etc.), but canned food is inevitably brought to the table (pun intended) and they are always stumped with how to prepare most foods that come from a can as they usually need a heat source before consumption. Gas stoves are almost always dismissed as we do not recommend indoor use, among other hazards.
Well, fellow disaster preparers, question no more because I give you the All American Sun Oven. That's right - this is an oven that works off the heat of the sun. Certain details must be paid attention to, such as aligning "sun track holes" and leveling devices, but this oven would be a great accessory to enjoy the comforts of normality during otherwise chaotic times. Heck, make it fun! Have cooking competitions to see who can make the most effective meal during an earthquake relief effort. You can also use it for camping, day trips to the beach, and roof-top office parties!
However, I can't promise that you won't be ridiculed for using a somewhat-ridiculous looking contraption. And when you get the snarky remarks, make sure they know that they're not invited for dinner.
Amitai "Tai" S. Zuckerman
Preparedness Coordinator
American Red Cross – Tulare and Kings Counties
AmeriCorps NPRC Member 2013-2014
Community Preparedness and Resilience Services
amitai.zuckerman@redcross.org